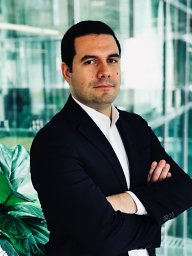 Strategic Innovation, Director at Axioma Inc., the leading provider of innovative risk-management and portfolio-construction solutions to financial institutions worldwide. Writer at OpenQuants.com on Data Science, Finance and Alternative Data.
Co-founded the Financial Services vertical at Yewno Inc., a Silicon Valley-based start-up that leverages AI to build innovative products launching AI-based equity indexes with STOXX and Nasdaq, alternative data feeds with Factset and Quandl as well as an AI financial platform for investment managers.
Launched new Market Risk and OTC products in the banking and stock exchange industries and developed research at UCL, University of London.
Author of scientific publications in machine learning, financial computing and analytics. Ad-hoc reviewer of scientific journals such as Science Advances (AAAS) and The Journal of Network Theory in Finance. Speaker in various academic and industry conferences on Computer Science, Fintech and Artificial Intelligence.
Ph.D. in Computer Science from UCL, University of London, M.Sc. in Computer Science from the University of Sao Paulo and B.Sc. in Computer Engineering from the University of Campinas.